Creativity is what keeps us going and lets us know that in some small way, we can leave our mark on at least one heart.
(
under the cut...
Collapse
)
I didn't take a picture of the progress on the previous sweater. I'll do that in a few days when I get more of this one done. Incidently, the lighting threw the color WAY off...this one is actually off-white, and the ribbing is light beige with flecks of pink, purple, and light blue.
I started the new sweater this morning, and as promised, here be pictures
Frame of Mind:

content


However, I still have time to make another garment. I worked out the design this afternoon, and it's also going to be made of 100% cotton, roughly the same type of yarn. But it's going to be an all-over lace pattern, worked over an odd number of stitches...

Row 1: k1, YO, k2 tog, repeat to end of row
Row 2: purl

This works up really fast, and since the needle sizes are US9 for the ribbing and US11 for the body, the garment is quite a peekaboo deal, designed to be worn over a sleeveless t-shirt (aka a "wifebeater" top). The sleeves will probably be full-length. The construction will be pretty much the same as the previous sweater, knit from the front ribbing on over and down to the back ribbing, with the sleeves being picked up at the edge of the armholes and worked down to the cuffs. Anything that saves me having to sew fewer seams works for me.

Once I get several inches knitted, I'll post pics. I'll also post pics of the progress I've made on the other one...I'm about halfway down the back. Admittedly, I haven't done a whole lot on it lately due to stuff going on around the house (the downstairs bathroom is nearly done, and we're ready to prime the dining room and kitchen walls as well as repanelling the bar between those two rooms). At least I'll manage to get this top done. I have 12 days til the show, and the swatches worked up so quickly, with 8 rows and 10 st equalling 2", so there's plenty of time, even with all of the other aggravation going on. I'm working night shift Thursday, Friday, and Saturday, so I can take it to work with me those nights and get a bit done on my breaks. After that, I'm on vacation for 10 days. :)
Well, I'm still plodding along on that sweater. Even though the stitch pattern itself isn't hard, it's time-consuming, and I'm not going to be able to get the lace sleeves done in time for the gig on August 8th. Doggone it. I've decided to keep working on it, though, for next year's Gathering in Nova Scotia. I might even wear it to next year's Cleveland Gathering...we'll see.
Frame of Mind:

creative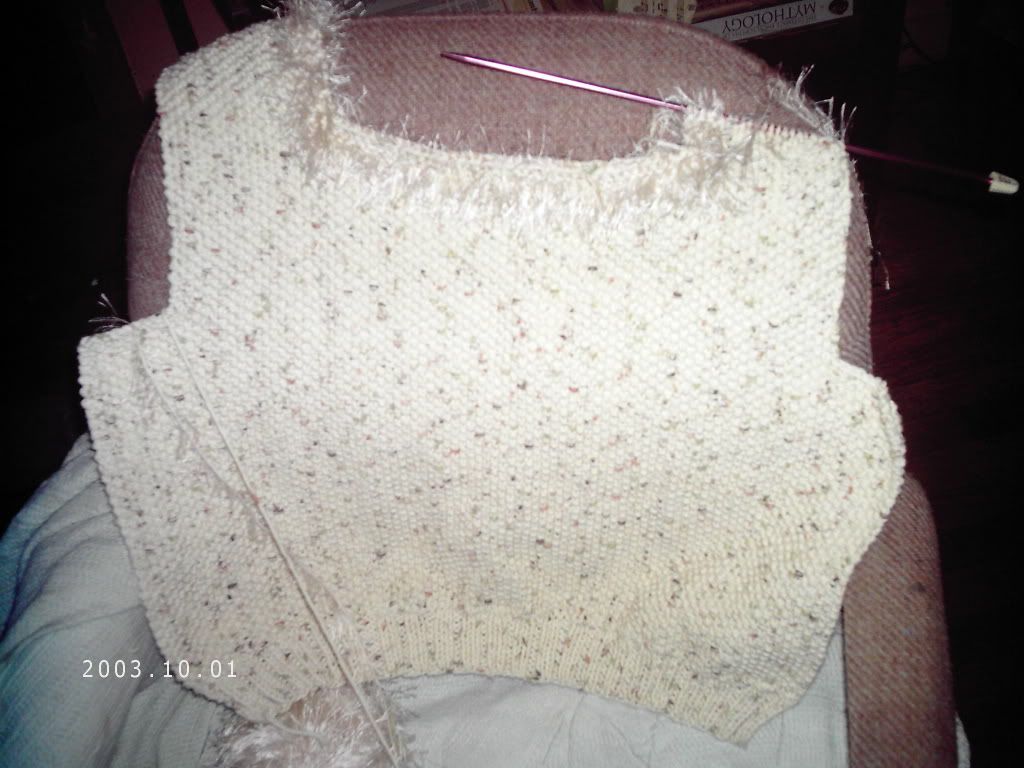 I've completed the shoulder on one side, still working on the other side. I was a knitting fool today, knitting for almost 6 hours! I love working with the eyelash yarn. That stuff is so soft. I hope it doesn't tickle me constantly when I wear this. The neck will be square, front and back, and I will have enough of the eyelash yarn left to make a matching narrow scarf. :)
We're going to my brother's for the holiday weekend...taking this with me. :)
Here's the top I started earlier this week:
Frame of Mind:

accomplished


I'm going to see if my son's digital camera is working and if so, I'll post a pic of my progress tomorrow evening. At this rate, I might even be able to finish the top over my upcoming vacation, which starts Thursday and ends next Monday. :)
Flying along on this new top! Front ribbing done, and have managed to do 45 rows of the moss stitch...I'm over halfway to where I bind off for the arm holes already! That's a particularly aggravating stitch pattern. It's k1 p1 stuff, and switching back and forth takes extra time, not like just straight knitting. That one small step of having to move the yarn front to back and then back to front in between stitches makes each pattern row take forever, nearly twice the time it would take to just knit or purl the whole row.
Frame of Mind:

accomplished
Still haven't finished that heavy winter sweater I was almost done with (halfway through the second sleeve) because it's acrylic (yeah, yeah, I know...) and weighs a ton, and it's too hot these days to sit with that on my lap.

However, I managed to start a knitted top that I designed in order to use up two rather heft skeins of Bernat cotton, an ecru color with tiny flecks of brick red and dark brown. It's being knitted front to back, and it's K2P2 rib, with moss stitch for the body. It will have a square neck, and the gathered bell sleeves will be knitted out of double-stranded soft bedspread-weight ecru-colored cotton with size 8(US) needles in regular stockinette stitch, unless I manage to find the lace pattern I've been hunting high and low for. The top will be trimmed with this ecru-ish eyelash yarn around the bottom of the sleeves and at the bottom of the body of the top, just above the ribbing.

I'm sure that description made everyone's head go all 'splody. Ha.

Anyway, last night I got row 25 of the main stitch pattern done on the front. Moss stitch is a bit slow-going for me. I need to have this top done by August 8, because I plan on wearing it to the Cleveland Gathering gig at the Phantasy.

If my son's digital camera is working, I'll get some pics as I make progress, and I'll try to get some pics of the as-of-yet uncompleted hooded sweater as well. My cell phone cam's picture taking abilities leave a bit to be desired.
Argh.
Frame of Mind:

creative
My latest project is going to prove aggravating, I'm afraid. I have a bad habit of just "winging" sweater design, and enthusiastically dove into the knitting of a light green and pastel variegated striped heavy sweater for early springs/late autumns. I had decided to knit a hood, which I'd never done before, and researched how to make hoods. Looks simple enough (ha ha ha...), so I did some quick measurements, did my swatches, etc.
Except...as I finished sleeve
#1
, I realized I didn't have enough yarn to finish sleeve
#2
, much less make a hood. And of course, since the yarn was stuff I'd bought a few years ago, I can't find any to match. *headdesk* I was mystified as to why I didn't have enough yarn. After all, the two skeins I was knitting from were HUGE, those giant "supersaver" things...and then one day while cleaning out a closet, I discovered why. Boy, my memory must be slipping. I found a big long thing that I had started the previous year, a double-stranded scarf using size 13 needles,
using both of those yarns
! I excitedly began frogging the scarf, and discovered that yes indeed, I have enough to finish the sleeve, but definitely not the hood. So I will either make a normal collar and button band with it, or maybe I'll do something stupid and use a third color (ack, I know...) to make a lacy collar, the button band, and add a bit of lacy trim below the cuffs just for continuity's sake.
I'm already partway through sleeve
#2
. My method of choice, when winging the design, is to knit starting at the bottom front or back and knit to the opposite side's bottom, then pick up stitches along the armholes and knit the sleeves down to the cuffs. This sweater is a cardigan, so I started at the back and knitted the left side first, placing the top right stiches on a holder, then proceeding with the right side on down. I still have to sew up the seams, of course.
Pictures to follow soon-ish. All I have at the moment is my camera phone, and I refuse to use that for pictures requiring a bit of detail.
Gaahhhh! I'm such a looooser! I didn't realize I hadn't updated for as long as I've...well, not updated. Shame on me! :( And I even remembered my password on here, so no excuses!
Frame of Mind:

determined


Pics when it's finished...
The baby afghan is nearly complete. I'm working on the lace trim, which I should have finished up by the end of the week. ::flops over::
Frame of Mind:

tired

I'm listening to :

Folkcast podcast #3


So I still have 4/5ths to go, plus the lacy frilly stuff around the edge.

Still thumbing through the vintage patterns. I've been eyeballing a few designs that would still be wearable in 2007. I won't have time to get to them in the near future, though -- I need to finish the blanket and the toddler top first! (Pictures soon...we found a way to get pics from the camera onto my son's laptop, and from his laptop onto a reburnable CD and then onto this computer. Lotsa fuss, but it's all we can do right now.)
I'm 1/5th of the way through the blanket. Oy. Cotton can be slow going...sometimes natural fibers are a pain to work with. But the other crocheters at work love the colors of the variegated yarn. I've had more compliments on it!


And the name of the person whose book it was...one of the historical society members. I'll have to tease her about it next time I see her!

One of the cool patterns in it was for crocheted tights, sort of a fishnet stocking, and there were a few other patterns for knee-hi socks as well. A lot of the dresses were very lacy (read: see-through) and would probably get a person arrested for indecent exposure.

I about died laughing at some of the patterns for men. I cannot, for the life of me, envision any guy today wearing that stuff. And come to think of it, I can't even remember seeing guys wearing some of those styles back then. I think a lot of men have an aversion to wearing crocheted clothing.

The historical society booth has yielded some cool vintage knitting and crocheting books and magazines over the last couple of years -- a few years back I picked up a ton of knit/crochet patterns from the 50s and 60s. Neat stuff!

I'm making progress on the blanket, and I decided to make a frilly lacy edging for it with a double strand of crochet cotton. Whee! Still can't post pictures, but will ASAP.
Heheheh...I went to the Columbia Homecoming festival today and checked out the books at the historical society's booth. I found an old book called The Family Crochet Book, published in England in 1971. I spent time before the parade thumbing through the pages, giggling at the styles and hairdos. Found some pretty cool stuff in it, though.


So I switched to the purple/teal/deep pink cotton yarn. It's not baby-colored, you know...the pastel colors, but it's vivid, and children love vivid colors. And I have two cones of it, so there's plenty for the blanket as well as a ruffled edge.

The swatches have been laundered, so I'll get the gauge from the knitted one and start mapping out the toddler top pattern. I seem to do my best work with patterns that I make up myself. I have the next 4 days off work, so I should be able to get some real knitting and crocheting done.
I started work on the baby blanket, using the ecru color-flecked cotton yarn, and then realized I wasn't going to have enough of it to be able to finish. *sigh*
Frame of Mind:

calm